Only fully vaccinated attendees (i.e. those who fulfill the public health requirements stated below) will be allowed to enter the Singapore EXPO, and proof of vaccination status from the TraceTogether App will be required to gain entry. Overseas visitors are required to download the TraceTogether App
before arriving in Singapore.
This checklist is for all travellers, including Singapore Citizens or Permanent Residents, who enter Singapore from any country/region via air, land, or sea, and fulfil the public health requirements below.
PUBLIC HEALTH REQUIREMENTS
COVID-19 Requirements
Travellers must have taken the minimum WHO-EUL vaccine dosage at least two weeks before arrival in Singapore and can show proof of vaccination: one dose of CanSinoBIO/Convidecia or Janssen/J&J, or at least 2 doses of AstraZeneca, Covaxin, Moderna/Spikevax, Covishield, Novavax/Covovax/Nuvaxovid, Pfizer/BioNTech/COMIRNATY, Sinovac or Sinopharm. Mixed doses and boosters using these WHO EUL vaccines, and vaccination with recovery are also acceptable.
Yellow Fever Requirements
Produce an International Certificate of Vaccination for Yellow Fever, if you have visited any country/region in Africa or Latin America identified by the WHO to be at risk of Yellow Fever transmission in the past 6 days before arrival in Singapore.
Visit this page for more details, including what types of vaccination proof are accepted.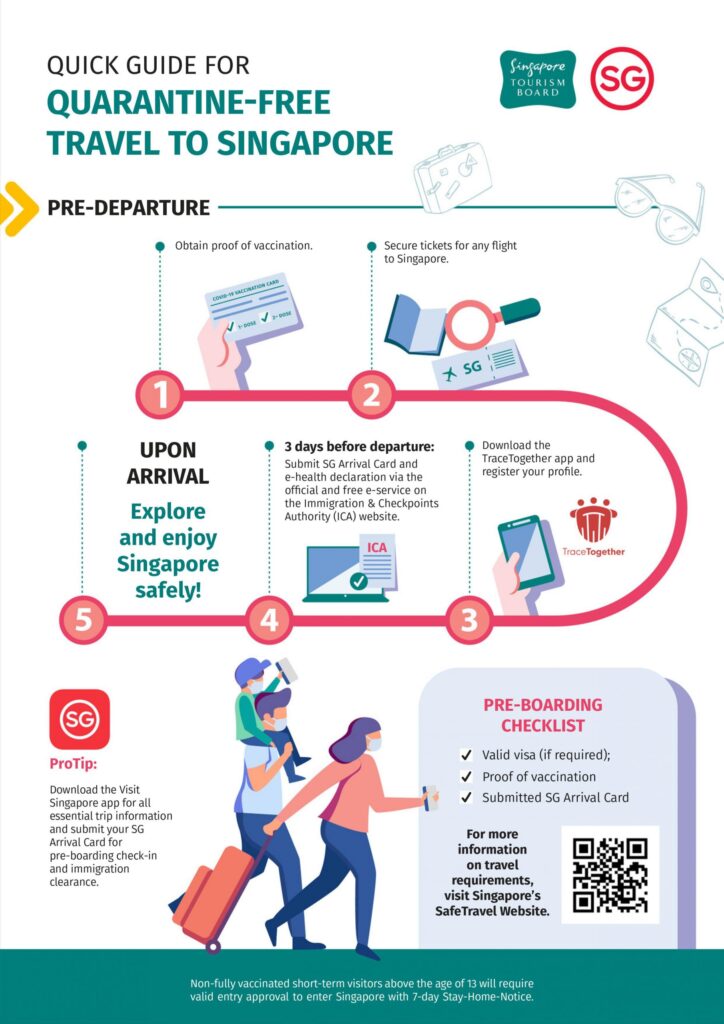 Secure tickets for any flight to Singapore
From 1 April 2022, all travellers fully vaccinated with WHO EUL COVID-19 vaccines* enjoy quarantine-free travel in Singapore; pre-departure and on-arrival test is not required for these travellers.
Singapore has implemented a COVID-19 Vaccinated Travel Framework to facilitate the resumption of travel. This new travel framework replaces previous SafeTravel Lanes such as the Vaccinated Travel Lane (VTL), and applies to all travellers entering Singapore, including Singapore Citizens/Permanent Residents. Click here to find out more from the Immigration & Checkpoints Authority (ICA) – Singapore.
Travellers are strongly advised to follow all the steps in ICA's Checklist for Fully Vaccinated Travellers to ensure that their journey to Singapore is smooth and that they will be accorded the measures for vaccinated travellers.
*To be considered fully vaccinated, travellers must have taken at least one dose of Janssen/J&J, or at least 2 doses of AstraZeneca, Covaxin, Moderna/Spikevax, Covishield, Novavax, Pfizer/BioNTech/COMIRNATY, Sinovac or Sinopharm. Mixtures and boosters of these WHO EUL vaccines, and recovery from COVID-19 with vaccination, are also acceptable. For full definition of acceptable vaccinations and dose intervals for entry to Singapore, refer to this page.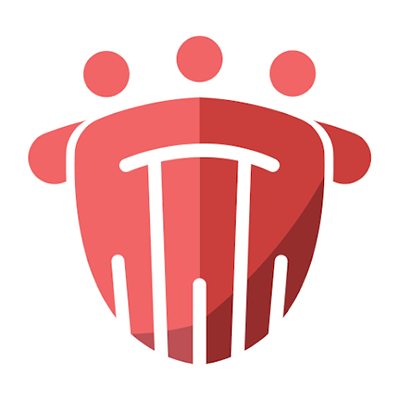 TraceTogether app
Check-in with the TraceTogether app or token is no longer required, except at larger events with more than 500 people and certain nightlife establishment.
IMPORTANT: When you enter Singapore EXPO, TraceTogether check-in at designated entry points via the TraceTogether app or token is mandatory.
Click here to find out more and download the app before arriving in Singapore.
Visit Singapore Travel Guide app
Learn how to use the Visit Singapore Travel Guide app and discover a city of passion with a swipe of your fingertips. Find out more.

Situated around one degree north of the Equator, Singapore is the most modern metropolis in Southeast Asia, blending Malay, Chinese, Arab, Indian and English cultures and religions.
Singapore is generally a free port and applies a Most-Favoured-Nation (MFN) zero-duty to more than 99 percent of its imports, including jewellery.
All goods brought into Singapore are subject to 7% Goods & Services Tax (GST). Learn about the GST Refund Scheme for tourists in Singapore.
However, goods imported on a temporary basis for the purpose of exhibitions, repairs or other approved purposes, may be granted GST relief under the Temporary Import Scheme (TIS).
Please refer to the Temporary Import Scheme on the conditions and permit procedures for goods imported under the TIS.
Visit the Singapore Customs website for more information.
Smoking is prohibited in all air-conditioned places such as malls and eateries except in designated smoking areas.
Your cigarettes/tobacco products are for personal use only and should not exceed 400g.
Tourists can claim a refund on the 7% Goods and Services Tax (GST) paid on your purchases if you spend more than S$100 at any participating shops.
Visitors can access free Wi-Fi at any Wireless@SGx hotspot with their foreign mobile numbers by downloading the Wireless@SGx App. Overseas charges may apply.
Take advantage of Singapore's world-class leisure and entertainment options and –
if your schedule allows – explore the city-state's unique attractions and colourful and rich history.
To know more about Singapore's tourism offerings, visit Singapore Tourism Board website